The landscape of establishing an e-commerce store has changed drastically over the past decade, but the ultimate goal remains the same: To get your products on the internet where anyone can easily purchase them. At Tragic, we believe that Shopify has lowered the bar so that even non-technical individuals can get a store off the ground quickly. And if you are leveraging a 3rd party fulfillment solution like Printful, you could get a customized brand launched in 24 hours.
In this article, we'll use our eccentric step-brand, Stonk Street, as an example of how you can transform an idea into a launched storefront in 24 hours.
Establish core branding concepts: Name and Logo
Your first logo should be clear and simple. The purpose of a logo is to communicate your business' value and to personalize your website and brand correspondence (i.e. receipts, emails, etc.). If your goal is speed to market, choose a strong name / domain but don't overthink the branding. Brands evolve, and if your store is successful it is easy to circle back and do a more in-depth process.
In our case, we needed branding that gave a creative voice to savvy retail investors and embodied their battle against hedge funds. From there, we designed a simple logo to represent the brand on Shopify.

Places where you can make a free logo are:
Non-design savvy startups can quickly get designs from crowdsourced sites including:
Decide and source products
Once your store's core branding is established, you'll need to establish your products. Whether you're creating them yourself or sourcing them from a third party, decide what you want to sell and document the time it takes to source the materials and produce them.
We settled on 12 initial shirt designs and found a local screen printer to fulfill our small batch of orders. Working with the screen printer proved difficult as production times and quality of shirts fluctuated based on his stock and availability. At times our orders got de-prioritized and keeping fulfillment consistent was becoming stressful, so we switched to the on-demand printing company, Printful. The transition to Printful simplified our workload, removed many headaches, and offered a wide catalog of products for us to offer with no restrictions on order minimums.
Create a storefront and choose a theme
Next, you'll create an account with an online storefront to sell your products, as well as choose and customize a theme.
To get Stonk Street's store up and running we chose Shopify.
Shopify is a software-as-a-service (SaaS) platform that makes it easier to set up online stores, offering a free 14-day trial and plans starting at $30 a month. After signing up, you'll be directed to a dashboard where you can start adding products to your website.
For each item you want to sell you'll need three things: An image, a title, and a clear description.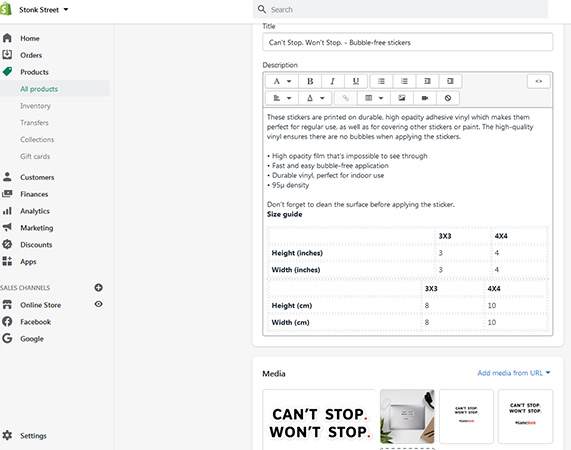 When your product inventory is complete, you'll customize your website's landing page and navigation. To save time, we modified an off-the-shelf theme for Stonk Street's landing page.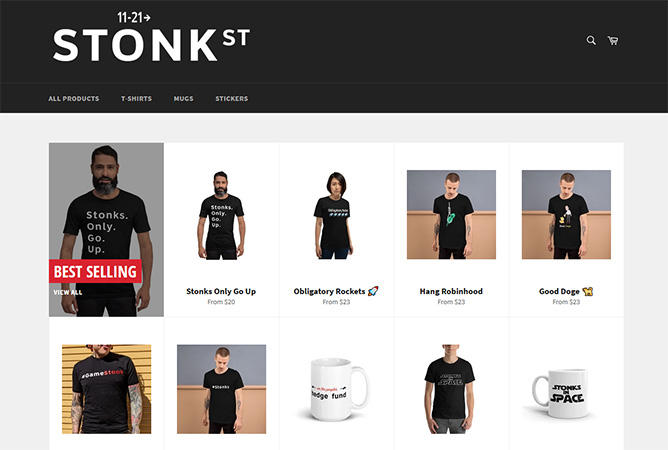 Configure site logistics
One of the last steps before launching your e-commerce website is to configure your website's logistics, which includes shipping, taxes, and payments.
Taxes
A business that sells goods or services is obligated to collect taxes each time a customer places an order. The taxes you collect from each sale are then sent to the government at the end of the year. The taxes you collect are based on your country and state.
Shopify makes it easy to manage your tax obligations and will alert you when there is an action required, for instance registering for a tax id in a new state.

Shipping Rates
Shopify offers free, flat, or calculated shipping rates. You can read more about Shopify's shipping services and rates to decide which option is right for your business.
Shopify Shipping has partnered with leading carriers to offer discounted, pre-negotiated rates. Carriers include USPS, UPS, and DHL.
Gateways or Payment Providers
Gateways or Payment Providers are the third parties that process payments like Stripe or PayPal. Shopify even has its own gateway which is competitively priced and offers PCI compliant and 3D Secure checkouts.
Shopify has several types of third-party payments available: direct, or external, manual. Direct payment providers allow customers to complete their purchases directly on your online store without being redirected to a third-party checkout. External payment providers require customers to be redirected to a third-party checkout outside of the online store to complete a purchase. Manual payments are processed outside of your online store, these orders need approval before fulfillment.
Options you have to receive paythroughs through Shopify are:
Shopify Payments
Apple Pay
Amazon Pay
PayPal
Google Pay
Shop Pay
Shop Pay Installments
We decided to use Shopify payments for Stonk Street for ease and speed of configuration.
Launch/Publish your e-commerce store
Now ready to launch your e-commerce store!
While the bells and whistles of a website certainly increase functionality and aesthetics, sometimes it's better just to get something out there. We've created numerous e-commerce websites, and it's always better to get something running, and then iterate as you go.
We created Stonk Street because we saw an opportunity to support the retail trading movement against the giant trading conglomerates with audacious memes and fun designs. We saw this opportunity come to a head with the GME short squeeze and our goal was to get our idea to market as quickly as possible. Luckily for us, Shopify and Printful made creating a storefront and fulfilling orders a breeze. If you're interested in seeing more of our work building and supporting e-commerce stores with Shopify check out our client stores Skybound and Maya Jewelry.
Need help with ecommerce? Contact us for a free consultation.