A website adventure with Hot Sauce
Dan Huss, one of our strategic partners approached us with an intriguing idea for a product. "I want to do a hot sauce of the month club, but I want to do it right." Dan is a hot sauce person. We are also hot sauce people. We both abide by the saying, "Is it food? If so, put hot sauce on it." It's a good match.
Hot sauce people love flavor. We also love variety, which is exactly why Dan invented the Hot Sauce Adventure club, to bring flavor and variety to hot sauce peoples' lives, completely hassle free. We were excited to help!
Designing the user experience
Because hot sauce is fun and flavorful, Dan knew he needed a website to reflect that. Our design team developed a unique, colorful concept using bright graphics and high-res imagery, including a photo of Dan himself to illustrate his personal story of hot sauce adventuring.
The website consists of one main page, partitioned into sections, or chapters, telling the whole story behind the Hot Sauce Adventure Club. Each section includes a call to action which sends users to the final and most important chapter of the page--the pricing section. The pricing section features three tiers, each listed with fun features and a prominent "join now" button. The homepage also features FUQs (Frequently Uttered Queries, "FAQs" are much too boring), a newsletter signup, social media links, and links to other sections of the site, including the blog and policy explanations.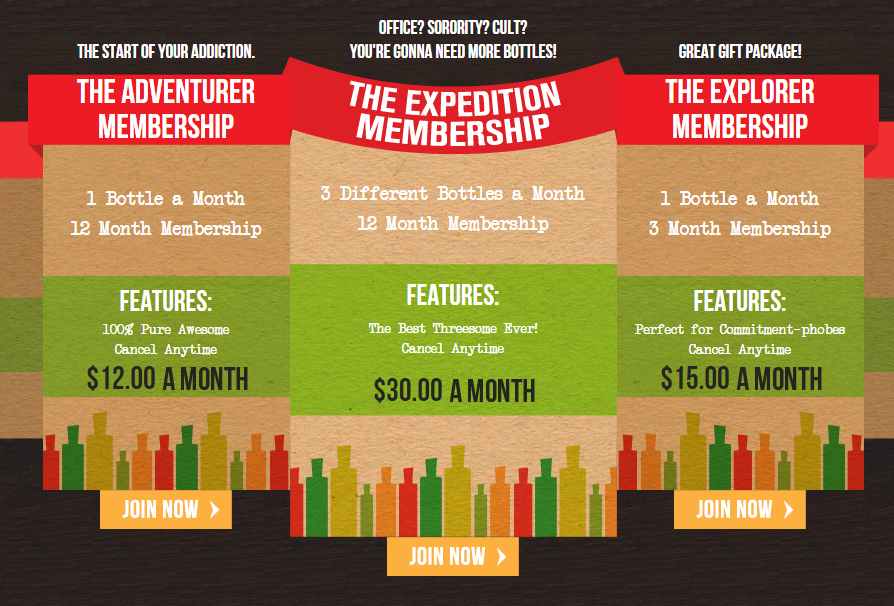 Content marketing is a great way to get the word out about a product or service. Dan uses the blog to entertain users with hot sauce related topics, position the Hot Sauce Adventure Club as experts, and drive traffic to the site from hot sauce aficionados. Not so coincidentally, the folks interested in this content are the exact type of person interested in joining the club! Prominent share links on blog posts help spread the word. Because the website is built in Drupal, we used a system of blocks to allow Dan to edit most of the content himself. This means Dan and his writing crew easily add their fun (and hilarious) copy!
The membership purchase process is kept as simple as possible. Users add one of only three products to their cart, enter shipping, billing, and payment info. That's it! Dan worked shipping costs into the price of the membership, so have one less barricade in the way of signing up.

How we did it
The site is built with Drupal 7 leveraging the Commerce suite of modules for the e-commerce building blocks. We used the Commerce BackOffice and Stripe modules for payment and order management. We then built a custom recurring subscription module to handle the subscription logic for the site. The system determines all active subscriptions and bills their credit cards once per month for their monthly subscription of special sauce. Users are able to login to update their credit card, or to cancel their subscription at any time. Administrators have an intuitive order management interface which allows them to charge, refund, or cancel orders as needed.
Creating advanced e-commerce functionality can be tedious and time consuming, but Drupal Commerce provides a flexible secure framework with which you can design and create any type of e-commerce experience you can think of.
The personality and brand of the Hot Sauce Adventure Club shows through on their website, which creates a memorable experience for users, and a buzz around the product to get people interested. Not everyone may "get" the outrageousness of the brand, but at least they'll be talking about it. For a young, growing organization, we count that as a win!